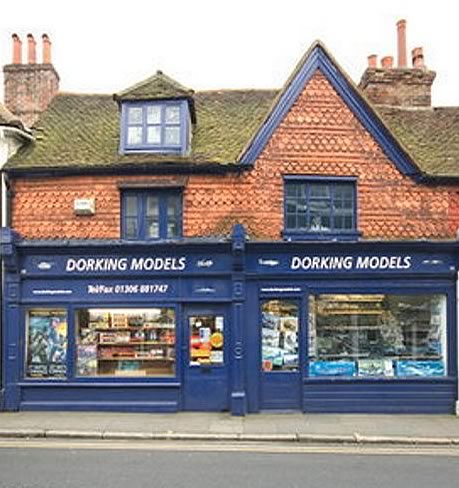 Welcome to Dorking Models.
Dorking Models has been established for over 50 years in the town of Dorking in Surrey. It is a real model shop and within the 400 year old building is one of the best ranges of plastic kits to be found in the South of England. Apart from the range of kits we have in stock accessories such as Evergreen plastic strip, Humbrol, Tamiya and some Mig paints, various woods, metals, tools, scenic accessories and books.
We are also main agents for Hornby trains and Scalextric slot racing as well as keeping good stocks of Lego products.
We keep all the major and many minor ranges of plastic kits and we specialise in military models in 1/72 and 1/35th, aircraft in all scales, and a large range of ships, especially 1/350th and 1/700th plastic and resin kits. Among the kit ranges we keep are:
Academy, AFV Club, Airfix, Aoshima, Bronco, Dragon, Emhar, Flyhawk, Decals, Masterbox, Meng, Mini Art, Mirror Models, Mole Military Miniatures, Revell, Roden, Soar Art, Takom, Tamiya, Trumpeter, UM, Valom, Zvezda
Dorking Models has been mentioned in Arthur Ward's books on Airfix kits and his follow up Classic kits which mentioned our extensive collection of the vintage Eaglewall kits (originally manufactured in Dorking in the late 1950's). We always encourage a visit to the shop which is a throwback to how model shops used to be - bursting at the seams with stock but now you can order online or by telephone if you cannot make the journey.
Our shop window is almost a landmark in Dorking with many made up models dominated by a 1/35th scale Dora railgun.
Dorking Models is owned by Tony Lawrence who, as past Chairman and President of the Invicta Military-Vehicle Preservation Society (IMPS) used to be involved with the War and Peace military vehicle show (then the largest show of it's type in the World) since its inception over 30 years ago as well as being a committee member of the IPMS - UK (International Plastic Modellers Society) back in the early 1970's.